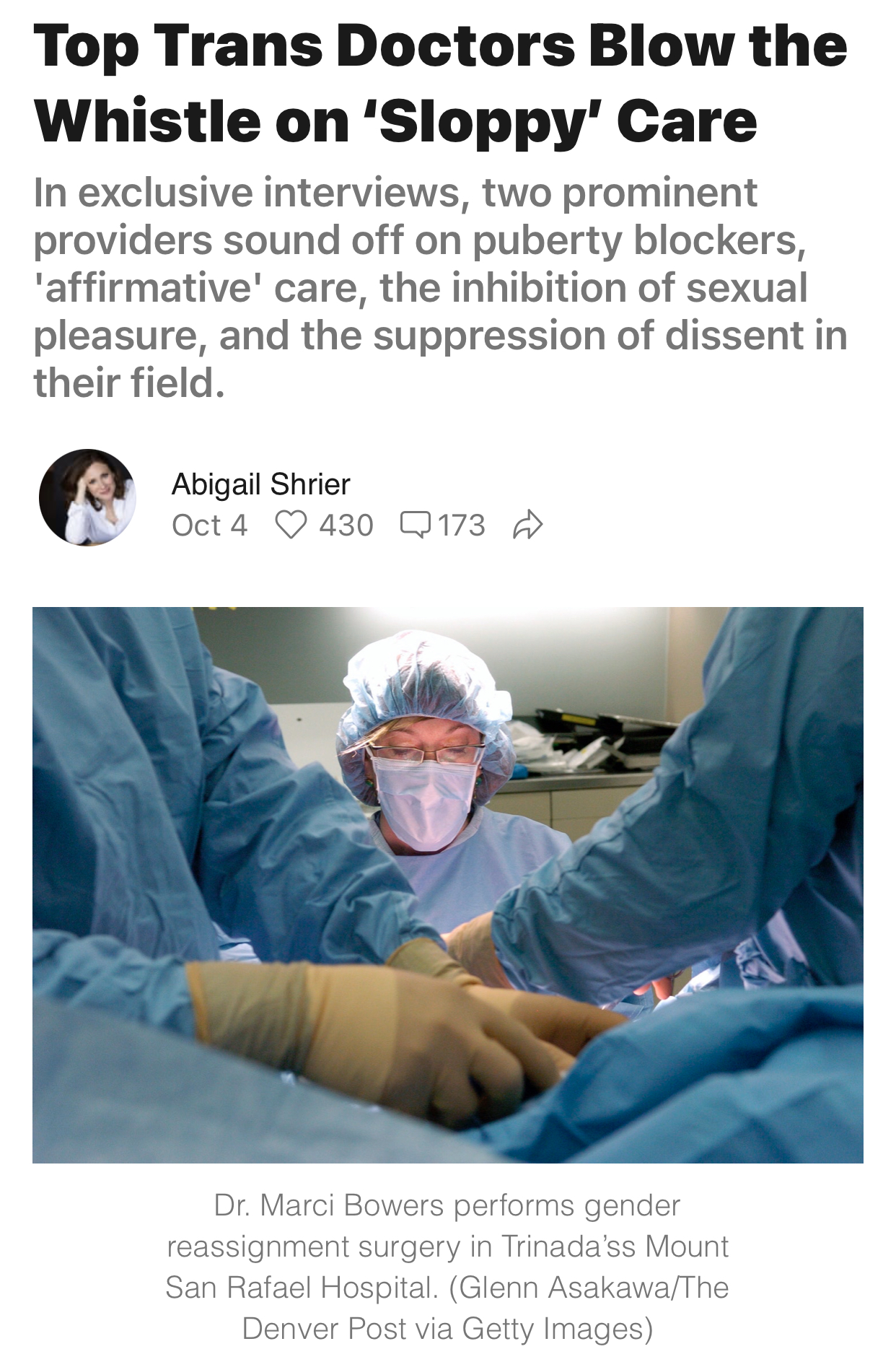 For nearly a decade, the vanguard of the transgender-rights movement — doctors, activists, celebrities and transgender influencers  — has defined the boundaries of the new orthodoxy surrounding transgender medical care: What's true, what's false, which questions can and cannot be asked.
They said it was perfectly safe to give children as young as nine puberty blockers and insisted that the effects of those blockers were "fully reversible." They said that it was the job of medical professionals to help minors to transition. They said it was not their job to question the wisdom of transitioning, and that anyone who did — including parents — was probably transphobic. They said that any worries about a social contagion among teen girls was nonsense. And they never said anything about the distinct possibility that blocking puberty, coupled with cross-sex hormones, could inhibit a normal sex life.
Their allies in the media and Hollywood reported stories and created content that reaffirmed this orthodoxy. Anyone who dared disagree or depart from any of its core tenets, including young women who publicly detransitioned, were inevitably smeared as hateful and accused of harming children.
But that new orthodoxy has gone too far, according to two of the most prominent providers in the field of transgender medicine: Dr. Marci Bowers, a world-renowned vaginoplasty specialist who operated on reality-television star Jazz Jennings; and Erica Anderson, a clinical psychologist at the University of California San Francisco's Child and Adolescent Gender Clinic.
In the course of their careers, both have seen thousands of patients. Both are board members of the World Professional Association for Transgender Health (WPATH), the organization that sets the standards worldwide for transgender medical care. And both are transgender women.
Earlier this month, Anderson told me she submitted a co-authored op-ed to The New York Times warning that many transgender healthcare providers were treating kids recklessly. The Times passed, explaining it was "outside our coverage priorities right now."
Over the past few weeks, I have spoken at length to both women about the current direction of their field and where they feel it has gone wrong. On some issues, including their stance on puberty blockers, they raised concerns that appear to question the current health guidelines set by WPATH — which Bowers is slated to lead starting in 2022.
WPATH, for instance, recommends that for many gender dysphoric and gender non-conforming kids, hormonal puberty suppression begin at the early stages of puberty. WPATH has also insisted since 2012 that puberty blockers are "fully reversible interventions."
When I asked Anderson if she believes that psychological effects of puberty blockers are reversible, she said: "I'm not sure." When asked whether children in the early stages of puberty should be put on blockers, Bowers said: "I'm not a fan."
When I asked Bowers if she still thought puberty blockers were a good idea, from a surgical perspective, she said: "This is typical of medicine. We zig and then we zag, and I think maybe we zigged a little too far to the left in some cases." She added "I think there was naivete on the part of pediatric endocrinologists who were proponents of early [puberty] blockade thinking that just this magic can happen, that surgeons can do anything."
I asked Bowers whether she believed WPATH had been welcoming to a wide variety of doctors' viewpoints — including those concerned about risks, skeptical of puberty blockers, and maybe even critical of some of the surgical procedures?
"There are definitely people who are trying to keep out anyone who doesn't absolutely buy the party line that everything should be affirming, and that there's no room for dissent," Bowers said. "I think that's a mistake."
---
Bowers is not only among the most respected gender surgeons in the world but easily one of the most prolific: she has built or repaired more than 2,000 vaginas, the procedure known as vaginoplasty. She rose to celebrity status appearing on the hit reality-television show "I Am Jazz," which catalogues and choreographs the life of Jazz Jennings, arguably the country's most famous transgender teen.